One year ago I graduated from my dream school, UCLA! I know from experience that the day you graduate from college is one of the most nerve-racking days of your life! It's exciting for sure, but there's also so much uncertainty about the future (for most of us). Your life no longer has the structure that academic institutions give from kindergarten to college. So, how do you navigate through life after college? 
I wish I had someone give me these guidelines/tips at the time of my graduation, but they didn't. And to be honest, I didn't care to ask. I was overwhelmed, I was leaving my home of four years (Los Angeles) and moving back to my hometown (India) within a week of graduating.
I didn't realize till I got on the plane to India how much my life was going to change. I remember the moment I got into my Uber for the airport, I sobbed, then I sobbed again on the flight. It was super emotional, to say the least.
A lot of my friends and peers were still in LA, either working or hunting for jobs. I had decided to go back to India to join my family's business. 
Although when I got home, I had some difficulty adjusting back to life. This was primarily because there was still a lot of uncertainty around me. Not in terms of work, but more structural & emotional uncertainty. 
The structure I had during my time in college was gone, there was no list of courses I needed to complete to graduate to the next level. I was on my own! It was time to figure out how to bring this structure back into my life. Just the thought of it gave me a lot of anxiety. 
It took me about 3-4 months to get back into my routine and to feel at 'home'. I missed LA so much, I still do, but I started enjoying being back in India again. 
Based on my experience I realized that there were a few things that helped me get back on track. 
For those of you graduating in 2020, I know that uncertainty is at an all-time high, so I want to dedicate this post to you. My goal is to help you navigate through the uncertain times and to come out at the top. 
This is a list designed to help you conquer the uncertainties and bring back structure into your lives.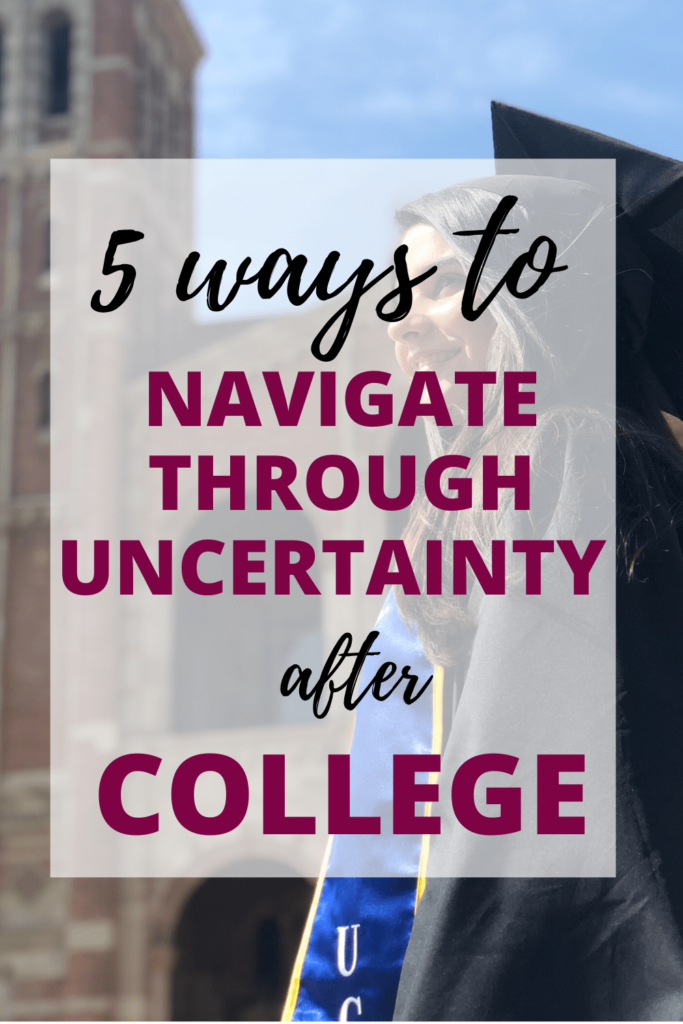 5 Tips to Navigate Through the Uncertainties of Life after College-
1) Don't be too hard on yourself!
I'm going to start with this – DO NOT BE HARD ON YOURSELF.
Take a moment to celebrate that you have GRADUATED! It's a big accomplishment. You deserve to celebrate.
It's natural for us to want to accomplish the next task after completing one, but taking a moment to acknowledge the fruit of your labours from the last 4 years is super important!
Don't be hard on yourself if you still haven't found a job, or if you're unsure about what you want to do in life. Trust me you're not alone.
I understand the feeling of being overwhelmed by the recruitment process, but everything usually falls into place.
I'm not asking you to not work at all, but I am asking you to take it easy for a couple of days after graduation to celebrate with your family and friends. You don't get this day back.
Give yourself a pat on the back, and let's move on to Tip #2.
2) Write down a list of Manifestations
A week after I graduated, I grabbed a pen and I wrote down a list of 200 things I want to accomplish in my life.
Yes, you read that right 200!
Now let me tell you why. I believe that writing down a list of manifestations at key moments in your life can really help you. Graduation is one of those moments.
This process not only gives you some clarity but gives you something to look forward to.
Your life after college is a clean slate, full of endless possibilities. You can dream to accomplish anything you want!
You'll actually find that writing down a list of manifestations can be very calming. It may give you clarity in terms of what you want to do.
Believe me, when you start writing, you will have a lot to write about! (It can be anywhere from 10-200+ manifestations)
So take a pen and a paper or a notebook and start writing.
Writing down your manifestations will also help you make a rough time table to make sure these manifestations turn into reality.
This process will also help you bring back a little more structure into your life and the uncertainty of life after college won't seem as daunting but will be exciting!
3) Know your worth & BELIEVE in it
It's important to really FOCUS on this step. YOU HAVE TO BELIEVE IN YOURSELF!
If you don't believe in yourself no one else can!
The recruitment process can really make you question your worth BUT DON'T! Understand that the world is competitive, and accept that. But, this doesn't mean you're not worth it.
Instead of taking every rejection or obstacle that comes your way as a sign of your shortcomings, view them as a stepping stone to being an even better version of yourself.
Remember, that every person has a place in this world, but it's on you to believe that you do! Don't rely on external factors to drive your self-worth. Think about what you're great at and believe in it.
Knowing your worth will take you a long way in your life and your career. If you believe in yourself you will be more confident and you'll be able to accomplish more.
4) Build a network & Have a plan B
Now it's time to get to work! BUILD A NETWORK!
When you're fresh out of college you should focus on building a solid network.
Reach out to alumni from your industry on LinkedIn, reach out to seniors you were friends with in college. Ask your parent's or peers to connect you to their network.
Introduce yourself to people and build relationships that are GENUINE. This will help you in your future.
Don't forget to reach out to your professors from school, a small thank you note after you graduate can go a long way!
I emailed 5-6 of my favourite professors after I graduated thanking them for making my time at UCLA memorable. This will also help you when it comes to getting recommendations. But remember, don't just email them for the sake of emailing them, be genuine.
Keep in touch with your bosses from your internship, connect on LinkedIn or drop them an email telling them about your future plans.
Building your network earlier will give you access to more opportunities!
Secondly, start thinking about PLAN B! What if you aren't able to get work in the industry you want, what would be your next steps.
Take the GRE or GMAT soon after you graduate so that you can apply to grad school for your PLAN B. (Taking these tests earlier will be better because you'd still be in the zone of studying).
Think about your plan B and build your network.
5) Remember your best years are still ahead of you!
You've heard of the saying that 'College will be the best 4 years of your life' right? While this may be true for a while after you graduate from college, it's not true forever.
Keep this in mind, your best years are still ahead of you!
You have pretty much your whole adult life ahead of you! It's your time to help change the world.
Make sure you're always focusing on learning and growing so you can contribute to your community! Find ways to challenge yourself and make decisions that you're proud of.
Your life after college is in your control, you're in the driver's seat. Try not to focus on the uncertainties of the future but your accomplishments so far; focus on being a better you in the present.
Being present in the current moment, and appreciating life RIGHT NOW will help you enjoy your life instead of overthinking it.
Uncertainty and change is a part of life. As long as you believe in yourself, and you're focusing on being better every day the uncertainties will not phase you.
Your life after college is a beautiful journey, now it's time to live it.
I hope these tips help you feel better about the time that's ahead of you, I try to focus my energy on RIGHT NOW and I do believe it's helped me feel less anxious.
You're amazing, remember that, and believe in that!
If you enjoyed this blog post you may also like this – How to have a More Positive Mindset & Transform Your Life
Sound off in the comments if you have any tips of your own or if you have any questions at all!
Here's to the start of your journey!
Cheers,
Disha